The NSW ski season is nearly over but the fun Snowy Mountain adventures on and around Lake Jindabyne never end! The hiking and biking tracks are drying out, beautiful wildflowers are blooming, Lake Jindy is warming up for a season of trophy trout fishing and wild water sports, and the surrounding Snowy Mountains abound in bucket-list outdoor adventures in a spectacular alpine wilderness.
Jindabyne is best known as a basecamp for Australia's Alpine Region, the NSW ski fields, and Kosciuszko National Park, but there's plenty to do right here in town and on the lake too.
#1 Stop By Snowy Region Visitor Center
The Snowy Region Visitor Center in Jindabyne is open daily for visitors to stop by, learn about Jindabyne and the Snowy Mountain Region, pick up maps and brochures, purchase park entry passes for Kosciuszko National Park, and get local travel tips for your holiday. Aside from a warm welcome from the locals, there are local exhibits on the Snowy Mountains and a cool coffee shop with sundeck seating and Lake Jindy views.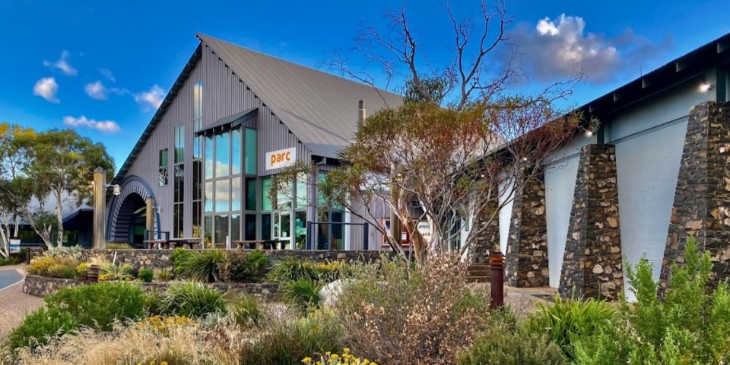 #2 Take a Dip in Lake Jindy
Lake Jindabyne is fed by the snowmelt from the Thredbo, Snowy and Eucumbene Rivers – it's cool but refreshing in the warmer summer months. The best swimming spot on Lake Jindy is at the Clay Pits where there's plenty of space to soak up the sun, take a dip in the cool alpine waters (or swim out to Lion Island or Cub Island). In Tyrolean Village, Rainbow Beach, Sandy Beach, and Rushes Bay are top spots for a beach day and cool dip in Lake Jindy.
#3 Water Sports
Getting on the water at Lake Jindabyne is all part of the fun, and there are endless ways to do it! Book a scenic sunrise SUP yoga class, take a tranquil paddle around the lake, go sailing or kitesurfing, or learn something new! Sacred Ride Water Sports Center has all the gear to get you on the water – wakeboards and kneeboards, traditional canoes, kayaks and catamarans for paddling and sailing, and epic power assisted water e-bikes and Waydoo e-foil boards… the future of watersports!
#6 Fishing Lake Jindabyne
If you're an avid angler (or keen beginner!) Lake Jindabyne is a top destination for fishing in the Snowy Mountains, and you can fish year-round! There are boat launches around the lake for trolling, find a quiet fishing spot on the shoreline to bait, spin or fly-fish, or experience the best fishing on Lake Jindy with a local fishing guide – there's a guided fishing trip for every level of adventure and experience!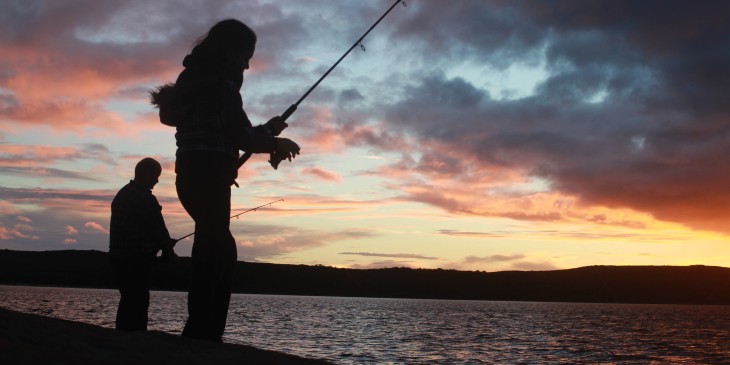 #7 Hiking & Bush Walking
Bushwalking the Australian Alps should be on every Snowy Mountain wish list! Jindabyne is surrounded by some of the most famous hiking and bushwalking tracks in Australia, including the Mt. Kosciuszko Summit Hike to Australia's highest peak (only a 30 minute drive from Jindabyne). Back at Lake Jindy, the paved foreshore trail takes you on an easy stroll along the shoreline with many secluded spots for a picnic.
#8 Mountain Biking
Jindabyne is a hub for mountain bikers hitting the epic trails at Thredbo Mountain Bike Park, one of the top destinations for mountain biking in Australia! If you prefer an easy cruise, the Lake Jindabyne Bike Trail connects Jindabyne to the Tyrolean and Mill Creek trails on the east shoreline, the Gaden Trout Hatchery to the west of Lake Jindy, and links to the Thredbo Valley Track to Lake Crackenback and Thredbo Resort. Sacred Ride in Jindabyne has bike rentals for kids and adults, and epic bike tours for the ultimate biking experience in the Snowys.
#9 Take a Helicopter Tour
If a scenic Snowy Mountain helicopter tour is on your bucket-list, you can take to the skies right here in Jindabyne. Snowy Mountain Helicopters are located at Jindabyne Airport and operate year-round with scenic flights over Lake Jindabyne, aerial tours of Kosciuszko National Park, and unique helicopter experiences ranging from wine, schnapps and beer tasting tours to alpine wilderness picnics and private fishing escapes in the Snowy Mountains of NSW.
#10 Hot Air Ballooning
Take to the skies at a slower pace on a colorful sunrise balloon flight over Lake Jindabyne, followed by a champagne toast and celebration. Hot air ballooning is an activity new to Jindabyne and promises breathtaking birds eye views of Lake Jindy and Australia's highest peaks from a gentle float above the treetops. Soaring as high as 3,000 feet above the lake waters, it's an unforgettable experience worthy of a spot on your Jindabyne holiday plans.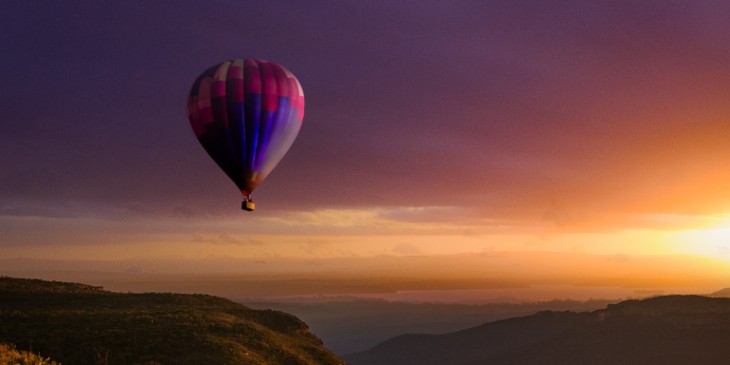 #11 Sip on Local Kosci Beer
The Banjo Patterson Inn (The Banj) is home to the Kosciuszko Brewing Company where the famous Kosci Pale Ale is brewed on site by local legend and master brewer Chuck Hahn … and served fresh from Vat to Tap.
The Banji has a cocktail bar, lakeside bar, and nightclub with great food, live music, and fun year-round events on Lake Jindy. Jindabyne Brewing on Nettin Crescent is another popular hotspot with tasting flights of 4 locally brewed beers, local wines from Shut the Gate Cellar, amazing grazing boards, and a family-friendly (and dog-friendly) outdoor patio with Lake Jindy views.
#12 Shop & Dine Local
Between Jindabyne Town Center and Nugget's Crossing there are amazing local boutiques, grocery outlets, sports stores, gear rentals, galleries, and day spas for a holiday pamper. Foodies are in for a feast with everything from casual cafés and coffee shops (Red Door Roastery is our favorite!) to Italian, Mexican, German, Chinese and authentic Japanese.
#13 Attend a Local Snowy Mountain Event
There is always something fun happening in Jindabyne, even when the NSW ski fields close! Spring and summer are seasons of outdoor exploration, lake activities, and loads of fun local events to plan your Lake Jindabyne holiday around.
Year-Round
1st Saturday of every month – Jindabyne Hall Markets – Jindabyne Memorial Hall
October 2022
29th – Snowy Mountains Trout Festival – Lake Jindabyne
November 2022
19th – Thredbo MTB Park Opens!
December 2022
17th – Jindabyne Carols in the Park – Claypits Stage
28th – Jindabyne's Man from Snowy River Rodeo – Jindabyne Sports Ground
February 2023
3rd – Snowies MTB Festival – Lake Crackenback Resort & Spa
24th – Trail Run Australia Snowy Mountain Festival – Lake Crackenback Resort & Spa
19th to 20th – Lake Jindabyne Dragon Boat Challenge – Lake Jindy
March 2023
3rd – Savour Snowy Mountains – A Weekend of Food & Wine – Lake Crackenback Resort & Spa
12th – Sri Chinmoy Multi-Sport Classic – Lake Jindabyne
25th – Snowy Classic Cycle Event – Banjo Patterson Park
#14 Explore Beyond Lake Jindabyne
One of our favorite things to do is take a scenic drive to explore beyond Jindabyne. Our guide to day trips and scenic drives in Jindabyne highlights the best road trip itineraries with some of the top attractions and places to visit in NSW on route!
Picnic on the Thredbo River: One of our favorite things to do is picnic or BBQ at the Gaden Trout Hatchery set on 10 acres on the banks of the Thredbo River. The setting is beautiful, BBQs and picnic shelters are available, and it's only a short 10 km drive from Jindabyne.
Gin Tasting at Wildbrumby Distillery: Situated between Jindabyne and Thredbo Resort, the Wildbrumby Distillery is the highest distillery in Australia and a must-do for every holiday in Jindabyne. Sample tastings of award-winning schnapps, vodka and gin, savor Austrian inspired meals in the vibey restaurant or outdoors on the terrace, and end your visit with a stroll through the sculpture gardens. Reservations are required.
Visit Lake Crackenback Resort & Spa: Lake Crackenback Resort sits on the edge of Kosciuszko National Park and while the amazing resort amenities and dining are reserved for guests only, the Lake Walk is open to the public for a scenic stroll along the shoreline. Browse our Lake Crackenback holiday accommodation with guest resort passes to enjoy the huge range of free holiday activities.
Ride the Thredbo Chairlifts: Whether you're hiking, biking or simply soaking up the views, riding the Thredbo chairlifts is a must on your holiday in Jindabyne. The Kosciuszko Chairlift, Gunbarrel Chairlift, and Merritts Gondola (new to 2022) are open for scenic summer rides to mountain top restaurants, Thredbo's mountain bike trails, and a vast network of alpine hiking tracks for every level of fitness!
Play a Round of Golf: Tee off for a round of golf on Australia's highest golf course. Set along the banks of the Thredbo River, the 9-hole Thredbo Golf Club opens on October 4th for summer play. Alternatively, Jindabyne Disc Golf on the shore of Lake Jindy is a blast!
Rock Climbing at Porcupine Rocks: The Perisher Valley is spectacularly scenic in the summer with bike trails around Perisher Village and great wildflower walking tracks through the snow gums. The Porcupine Walk is a short, family-friendly track leading to huge granite boulders for rock climbing with breathtaking views of the Snowy Mountain peaks.
Saddle up for a Snowy Mountain Horseride: Exploring the Snowy Mountains on horseback is unbeatable! Thredbo Valley Horseriding offers unique year-round experiences in the wild and scenic Australian outback for every rider, even beginners. Owners Nev and Linda insist it's "the best fun you can have with your clothes on". Give it a try on your Jindabyne holiday and let us know!
Search for Wild Brumbies: The best place to see wild brumbies (if not on horseback!) is on the walking trails in Dead Horse Gap. The Cascade Trail and Dead Horse Gap loop are favorite walking tracks to spot wild brumbies galloping across the alpine landscapes with some of the most breathtaking views in Kosciuszko National Park.
Snowy Hydro Discovery Center: The Snowy Scheme is one of the world's most complex and modern engineering marvels and an important part of the Snowy Mountain Region. The Snowy Hydro Discovery Center is fascinating with an immersive state of the art theater, guided tours, and an on-site café to refuel before heading back to Lake Jindy.
Yarrangobilly Caves & Thermal Pools: Situated in the northern Kosciuszko National Park, the Yarrangobilly Caves & Thermal Pools are a top Snowy Mountain attraction, worth the 2-hour drive from Jindabyne. Six caves are open to the public – and bring your swimmers, a river walk leads to a thermal pool, open and heated year-round.
River Rafting: Experience the thrill of river rafting through the alpine rain forests of the Snowy Mountains, only a short drive from Jindabyne. Jindabyne Adventure Booking (JAB), situated on Thredbo Terrace, is your one stop shop for white water rafting trips on the Upper Murray River or Snowy River.
#15 Stay With Alpine Country Holidays
Book your holiday with confidence and ease with our local team at Alpine Country Holidays. Our hand-picked portfolio of Snow Escape vacation rentals includes lakefront holiday apartments in Jindabyne, Lake Crackenback chalets, and holiday rentals in Thredbo.
We love where we live and encourage guests to engage in as many local experiences as possible and experience the best of Jindabyne and the NSW Snowy Mountain Region, with us as your local hosts!
Book direct on our website or call our team on 1300-916-454 today.