Mountain Biking the Mountains - Information, Trail Maps, and Bike Hire
For all bike repairs, sales & service we recommend Sacred Ride Jindabyne & Thredbo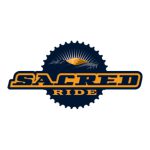 Gippsland St Jindabyne – Fifty meters from the Snow Escape office!
For bike sales & rentals, Gravity Sports Jindabyne & Alpine Sports Jindabyne can assist
SNOWY MOUNTAINS TRACK & TRAIL INFORMATION
JINDABYNE TRAIL NETWORK
Jindabyne has an extensive trail network for all abilities.These are maintained by a local volunteers and offer great riding for your holiday. From the gentle Lakeside ride on concrete and dirt to Hatchery Bay add the more adventurous trails of Tyrolean Village. Most trails are interlinked so you go easily move from one to the next. Trails are open all year round.
NOW OPEN – The Hatchery Bay trail will be linked with the Thredbo Valley Trail and the Tyrolean Village Trail so you can ride from the top of Thredbo to Tyrolean Village!! Almost 40klms on 1 trail!!
Here is more information on the Jindabyne trails at Trailforks
_____________________________________________________________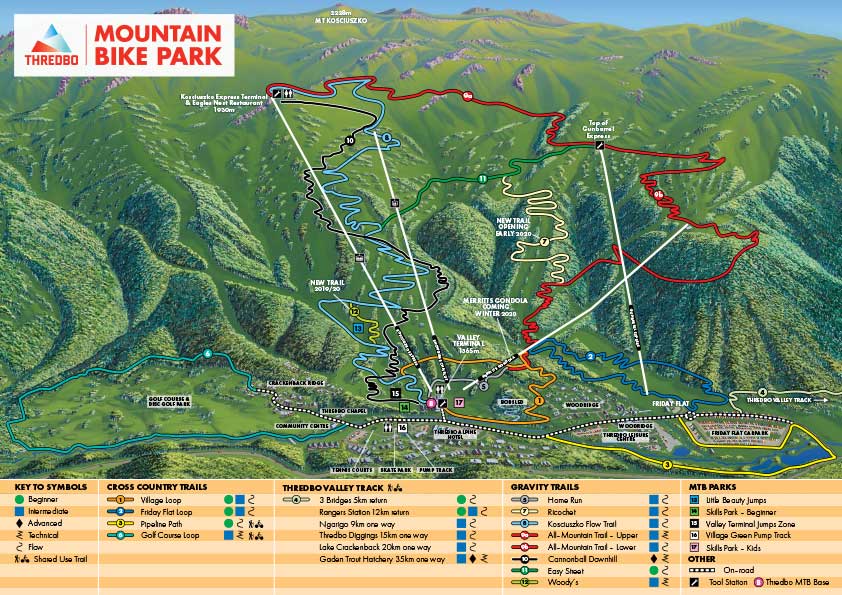 Thredbo Mountain Bike Park is one of Australia's premier mountain biking destinations and this summer it takes gravity riding, cross country exploring and MTB action to a whole new level and elevation. With new trails in the pipeline and revamped existing tracks, there are over 25 kilometres of epic riding to enjoy. From downhill, cross country, all-mountain and a fast flowing pump track there is lots to love about riding in the Thredbo Mountain Bike Park this summer.
Here is a list of trails with descriptions, lengths & skill levels for all riders.
---
Gravity Trails :
THREDBO ALL-MOUNTAIN TRAIL
Level: Intermediate
Distance: 10km
Style: Flow/Technical
Starting at 1930m above sea level, riders are taken over 10km down through the impressive mountain landscape with uninterrupted views of the Thredbo Valley. Although not as steep as the Flow Trail, it offers intermediate and advanced riders plenty of variety and line choice. Once at the Creek Station, riders can climb back to the Kosciuszko Express, take the easy cruise via Friday Drive or continue along the Thredbo Valley Track.
KOSCIUSZKO FLOW TRAIL
Level: Intermediate
Distance: 4.5km
Style: Flow
Perfect for those looking for an introduction into downhill riding or a warm up for the Cannonball. Starting at the top of the Kosciuszko Express Chairlift, riders roll through single-track with never ending rollers and smooth berms to keep the flow going, it is a blast top to bottom. The steady gradient gives riders a more mellow ride, but still providing the adrenalin rush of downhilling.
CANNONBALL DOWNHILL TRAIL
Level: Advanced
Distance: 3.3km
Style: Technical
Thredbo's signature trail, descending 600m vertically through the tree-lined Supertrail slopes. Cannonball tests riders with off-camber roots, rock drops, jumps, wall-ride and other technical features that the gravity specialists dream about. Recent upgrades include more fall-line added along with some big jumps in the mix for the freeriders. *Full-face helmet compulsory.
RICOCHET TRAIL:
Level: Intermediate
Distance: 3.2km
Style: Flow
Winding its way through awesome terrain on each side of the High Noon steeps, this trail flaunts effortless flowing berms and cruisy traverses. The more advanced will spot the odd gap or two making it loads of fun for all. Ricochet is accessible from Easy Street via the Gunbarrel Chairlift or the Upper Thredbo All Mountain Trail. The trail offers a progression into more advanced flow gravity riding.
WOODY'S:
Level: Intermediate
Distance: 900m
Style: Flow
Woody's is a short off-shoot from the lower Kosciuszko Flow Trail. Winding its way through dense bush it features hand built techy terrain with a few machine built berms thrown in. This is the perfect introduction into technical single-track riding with plenty of variation and obstacles to navigate.
HOME RUN:
Level: Intermediate
Distance: 800m
Style: Flow
Home Run gives riders a direct route back to the Kosciuszko Express Chairlift from Ricochet & the All-Mountain Trail. From Creek Station, head across the river on the summer road, up a small pinch climb to the top of the bobsled before veering right to descend onto a fun flowing section with deep back to back berms bringing you into the Valley Terminal area before loading the chairlift for your next lap.
EASY STREET:
Level: Beginner
Distance: 2klm
Style: Flow
Easy street gives riders green run access to the Flow Trail. Starting at the top of the Gunbarrel Express Chairlift, it follows the winter 'Catwalk' and is a great starting point for those new to the mountain bike park. Featuring easy traverses, small rollers and a steady gradient, it will get you warmed up before tackling the intermediate trails.
THREDBO VALLEY TRACK
Level: Beginner
Distance: 5-35 km
Style: Flow
Highlights: Unrivalled river views • Easy going • Picturesque rest areas
This impressive shared use trail takes riders down the picturesque Thredbo Valley and includes some amazing suspension bridges. Meandering along the banks of the famous Thredbo River, riders can maintain flow undulating through open grasslands and thick eucalyptus forests. The section to the third bridge (5km return) or Rangers Station (12km return) is perfect for the beginners with some climbing involved on the return trip. Continuing downriver there are forests and open woodlands with smooth descents and short uphill bursts with rollers to keep the flow going. Riders can continue on to Thredbo Diggings (14.5km one way) or head onto to Lake Crackenback Resort (20km one way).
Now open to Gaden Trout Hatchery and the Lake Jindabyne Trail to Jindabyne township!
---
Cross Country Trails :
VILLAGE LOOP
Level: Beginner/Intermediate
Distance: 2.9 km
Style: Flow
The Village Loop heads out from Valley Terminal past the base of Snowgums then you start to climb. You traverse through forests, past waterways and rock pools before meeting up with the Kosciuszko Flow Trail- Riders can either continue on to the Golf Course Loop via the Golf Course Connector or head back to Valley Terminal. This trail is also accessed by the Friday Flat Loop and Thredbo All-Mountain Trail.
FRIDAY FLAT LOOP
Level: Beginner/Intermediate
Distance: 2.4 km
Style: Flow
Starting at the Thredbo Valley Track trailhead, riders cross undulating terrain, across bridges, through gum trees before a winding climb. This links the Thredbo Valley Track and Bridle Loop to the trail network.
PIPELINE PATH
Level: Beginner
Distance: 2 km
Style: Flow
With only a slight undulation you loop around the southern end of the village along the Thredbo River. Keep pedalling onto the Friday Flat Loop, Bridle Loop or Thredbo Valley Track or simply follow the track behind the big carpark, onto Friday Drive back to the village.
BRIDLE TRAIL LOOP
Level: Intermediate
Distance: 1.9 km
Style: Flow/Technical
The Bridle Loop is a short and sharp technical loop accessed by the start of the Thredbo Valley Track (TVT). The trail heads downhill on an exhilaratingly flowy section of the TVT before making a tight uphill turn into a technical climb that will test not only the novice climbing skills, but also the cross country specialists. A quick descent takes you back to the trailhead with a lovely view of the Thredbo River.
GOLF COURSE LOOP
Level: Intermediate
Distance: 2.4 km
Style: Technical
Starting at the top of Crackenback Ridge, access is through the top gate of Crackenback Drive. Riders then head out on the single track skirting the 9 hole golf course, along the Thredbo River. With a few small steps, short technical climbs and the odd rock garden to negotiate, this one is for the more intermediate riders.
---
MTB PARKS :
VILLAGE GREEN PUMP TRACK
Level: All levels
Great free-rolling fun for the whole family and all riding styles. The track design is free form with rollers, berms and jumps. It is great for your mountain biking skills and for fitness.
HOLLYWOOD JUMP PARK
Level: Intermediate/Advanced
The Hollywood jump park will feature an array of jump options and features to take your air time progression to the next level. Most of the hits and features will be rollable allowing riders to warm up to the jump park.