Welcome to Jindabyne, where breathtaking views of Lake Jindy and the Snowy Mountains set the stage for remarkable year-round adventures. As you explore our scenic town, prepare to be enchanted by not only its natural wonders but also our burgeoning food scene. From diverse world cuisine in renowned Snowy Mountains restaurants to country-style coffee shops and trendy cafes that cater to the most discerning coffee connoisseurs, Jindabyne is a haven for foodies and coffee lovers. Join us as we explore the best places for coffee in Jindabyne, where the fusion of flavors, the aroma of freshly brewed beans, and the warmth of local hospitality await.
Alpine Larder Café
Phone: +61 2 6448 8200
Open: Daily 10AM to 9PM 
Start your day slow with the best brunch and coffee in the Snowy Mountains! Located at Lake Crackenback Resort & Spa, the Alpine Larder Café offers a relaxing down-to-earth atmosphere with a crowd-pleasing menu for brunch, lunch or dinner, warm local hospitality, and award-winning coffees and after-dinner espressos by Australia's award-winning Vittoria coffee roasters.  
Birchwood Café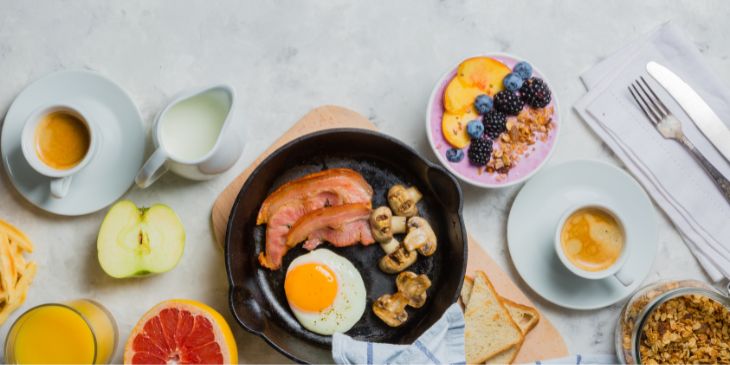 Phone: +61 2 6456 1880
Open: Daily 7AM to 2PM 
This trendy Jindabyne coffee shop is located kitty-corner to Nuggets Crossing and offers the ultimate Aussie café experience – wholesome breakfasts and lunch with lots of gluten-free and vegan options, and high-quality Single O specialty coffees roasted to perfection by their trained baristas. Birchwood Cafe has a  cool coffee shop vibe that extends to sidewalk tables in the summer, and you can enjoy local booze, wine, and cocktails from 10AM! 
Brunelli's Café
Phone: +61 405 081 219
Open Seasonally: 7:30AM to 5PM 
Established in 1983, Brunelli's Café has two locations on the upper and lower levels of the Perisher Center at Perisher Ski Resort, with a loyal following of regulars getting their daily coffee hits on the slopes. Italian owners, Bruno and Roberta, are regular baristas serving coffees named after ski runs ("Mother in Law" the stronger bitter coffee, and "Rollercoaster" a smoother blend for easy drinking), 10 different Italian hot chocolates, and marshmallows for the kids – with outstanding local service!  
CBD Coffee Beats Drinks
Open:
Daily 7AM to 1PM
Wednesday-Saturday 5PM to 12:00AM 
Experience Jindy's chilled lifestyle at Coffee Beats Drinks, a local favorite located next to the Banjo Patterson Inn. Start your day relaxing with an organic Pablo and Rusty's coffee and breakfast toastie on the picture perfect patio – the best coffee with views in Jindabyne! Then flip the social switch for cool beats and killer cocktails by night (seasonal hours only).
Dudley's Café
Phone: +61 2 6457 2631
Open: Daily 7AM to 3PM 
Located near Woolies in Nuggets Crossing Center Court, Dudley's Café offers tasty breakfast and lunch options (the salmon eggs benedict is a must!), a variety of coffees sourced from Sydney's award-winning Seven Miles Roastery, and quick friendly service that won't delay your day of adventures in the Snowies.
ESS Boardstore Café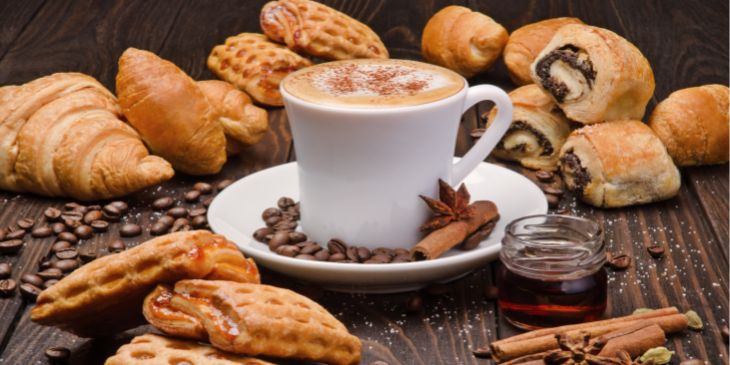 Phone: +61 2 6457 1455
Open:
Monday–Saturday 6AM to 5PM
Sunday 6AM to 4PM 
Experience the fusion of outdoor adventure and aromatic coffee at ESS Boardstore Café. Located in the Lake View Plaza (opposite our Alpine Country Holidays office), the ESS Boardstore Café is a staff favorite – grab a specialty Allpress Espresso coffee and homemade pastry or toastie before exploring the Snowy Mountains, or shop the latest gear with a perfectly brewed cup in hand. The ESS Boardstore retail shop opens at 8 AM.
High Ground Coffee Bar
Phone: +61 451 667 426
Open Seasonally
Monday–Friday 8 AM to 4 PM
Saturday 7:30AM to 5PM
Sunday 7:30AM to 4PM 
Looking for the closest coffee to the ski lifts? Ski to the right of the Village 8 ski lift at Perisher Ski Resort straight to the door of High Ground Coffee Bar, a cozy café with country cabin vibe and the best food and coffee on the mountain. Kick start your day on the slopes with a coffee, coconut chai tea or creamy hot chocolate, then hit happy hour with pints, espresso martinis, schnapps, $1 wings, and sweet DJ tunes before night skiing at Perisher.
Nimmitabel Bakery
Phone: +61 2 6457 2631
Open:
Monday–Friday 6AM to 4PM
Saturday–Sunday 8AM to 4PM 
The inviting aroma of slow-cooked meat pies, Australian lamingtons and freshly brewed coffee will guide you to Nimmitabel Bakery in Nuggets Crossing. The display cabinet is packed full of sweet and savory treats and their famous meat pies with a variety of hot chocolates, loose leaf teas, and local small batch coffees to savor indoors or out on the courtyard patio. Ask for a coffee loyalty card as it may become a regular stop during your holiday in Jindabyne!  
Parc Café
Phone: +61 2 6456 2517
Open:
Monday-Saturday 7AM to 3PM
Sunday 8AM to 3PM 
Parc Café is a chic contemporary café located next to the Snowy Region Visitors Center in the heart of Jindabyne. The café offers an innovative breakfast and lunch menu with a wide range of gluten free and vegan free options, fresh fruit juices and smoothies, locally brewed craft beer and wine, and sustainably sourced small-batch Madding Crowd coffees and teas.
Red Door Roastery
Phone: +61 2 6457 1112
Open: Daily 7AM to 2PM 
Our team at Alpine Country Holidays are very serious about finding the best coffee in Jindabyne. The Red Door Roastery is our favorite Jindy coffee shop to grab a coffee to go, catch up with friends over breakfast or lunch on the weekend, and enjoy scenic views stretching from Banjo Patterson Park to Lake Jindy. Red Door Roastery is family-run and the only coffee shop in Jindy that roasts its own coffee beans in-house.
Sundance Bakehouse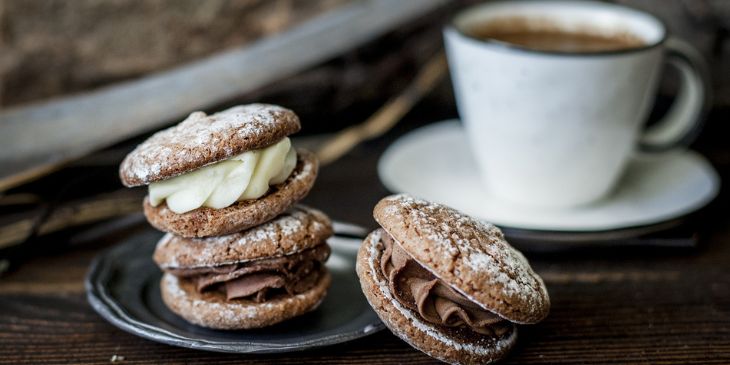 Phone: +61 2 6456 2951
Open: Daily 5:30AM to 6PM 
Early birds will find seriously good Allpress Espresso coffee served by baristas with a smile at Sundance Bakehouse's flagship store in Center Court at Nuggets Crossing. Sundance Bakehouse also serves delicious pies, freshly baked breads, gourmet sandwiches, and sweet treats to give you that extra kick on the Snowy Mountains ski fields. During ski season, Sundance Bakehouse operates two smaller locations at Perisher Ski Resort.
Trader Joes Garage Café
Open:
Daily 6:30AM to 2:30PM
Closed Thursday 
Conveniently located at the turn off to Kosciuszko National Park and the Snowy Mountain resorts, Trader Joes Garage Café is a quick and convenient coffee stop for both winter skiers and summer bushwalkers before heading to explore the Snowy Mountain slopes, known to have the best burgers in town too! You can order ahead of time via Bopple! 
Get your caffeine fix and holiday kicks with our local team at Alpine Country Holidays in Jindabyne. When you're not exploring the best coffee shops in Jindabyne, you can enjoy a complimentary cuppa on us curled up cozy in your Jindabyne holiday home.