Ready for a different kind of snow play? Strap on a pair of hi-tech snowshoes and wander off the beaten path on the best snowshoe tracks in the Snowy Mountains of NSW – no lift lines, no crowds, no rush! 
The charming lakeside town of Jindabyne lies at the heart of it all. Nestled at the base of Kosciuszko National Park, Jindabyne is the closest town to two of Australia's best downhill ski resorts, Perisher and Thredbo with world-class winter sports, and miles of backcountry bushwalking tracks carpeted in snow. 
If you can walk, you can snowshoe (just don't go backwards!), and if you're always keen to get on the summer hiking trails, you'll fall in love with snowshoeing in Jindabyne. Navigating the Snowy Mountain snowshoe tracks near Jindabyne in seclusion, surrounded by glistening snow gums, snow capped peaks, and the winter serenity that fresh snow brings. 
Whether snowshoeing is a new adventure or you're an avid mountaineer ready to climb new summits and reach new heights, you don't have to go too far to get off-piste, escape the crowds and immerse yourself in the backcountry and rugged alpine landscapes beyond the ski fields of the Snowy Mountains.
Snowshoe Tracks near Jindabyne 
Explore beyond the Snowy Mountain ski fields on dedicated snowshoe tracks that are well-marked, maintained and ideal for first-time snowshoers or families seeking kid-friendly activities in the Australian alps. The Snowy Mountains are home to some of the top hiking trails in Australia, open to explore year-round. There are many snowshoe tracks and trails easily accessible from Jindabyne in Perisher, Guthega and Thredbo.
Perisher Ski Area
Perisher Ski Resort is the largest ski resort in Australia and a great place for beginner snowshoers to start their Snowy Mountain backcountry adventures. There are many well-marked and easy trails from the parking lot with the Rock Creek Snowshoe Track and Porcupine Rocks Loop Track both favorite winter trails for snowshoeing. Head off the beaten path and away from the ski crowds as you venture through forests of crooked snow gums to panoramic views of the Thredbo Valley below.  
Ski Village of Thredbo
The ski village of Thredbo opens up a world of opportunity with more challenging trails heading into the backcountry and wilderness of the Snowies. Dead Horse Gap is a favorite trail for snowshoers (look out for wild brumbies!) or take the challenge and snowshoe to the summit of Mount Kosciuszko, Australia's highest point at 2,228m above sea level. We suggest you book a guided Mt. Kosciuszko experience, and don't venture out alone.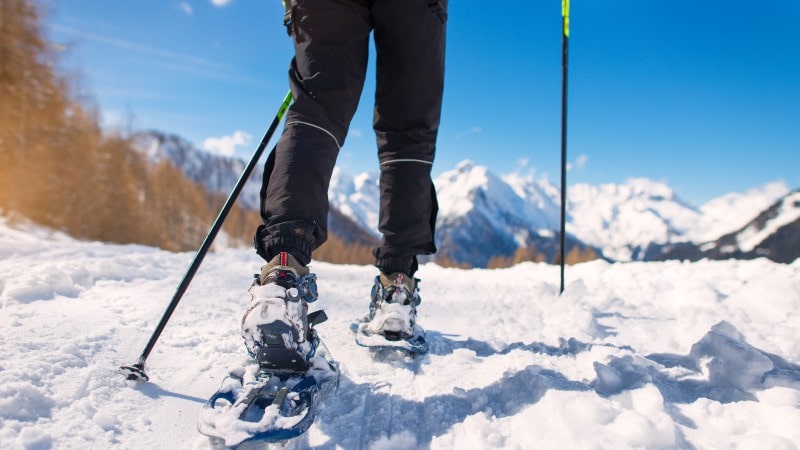 The Right Gear for Snowshoeing in Jindabyne 
The alpine weather conditions in the Snowy Mountains can be challenging and fickle, so it's important to be prepared and equipped with the right safety equipment, clothing and snowshoe gear. 
Layered Clothing: Start with a warm base layer that wicks moisture away from your ski, add a second layer of warm, lightweight hiking gear, and always top layer with a waterproof and breathable hooded jacket and pants to stay dry. A warm beanie, gloves/mitts, and disposable hand warmers always add comfort. 
Snowshoes: Gone are the days when hikers practically strapped tennis racquets to their feet to venture through the snow. Snowshoes have evolved and there's plenty of hi-tech, light and easy to use snowshoes that make treading deep snow easy (and fun!). If you're adventuring alone, always hire before you buy to find the right fit. Insulated waterproof winter boots and warm wool socks (+ an extra pair) are essential to fit the snowshoe. 
Extra Gear: Trekking poles are a must for balance and upper body power to negotiate the steeper sections, sunglasses and sun protection, food and snacks, and always download a map to stay on the trails. You may not always have signal in the outback.
Snowshoe Tours & Experiences in the Snowy Mountains 
Whether you've got all the gear and no idea, or you're simply seeking the best snowshoe experience in the Snowy Mountains of NSW – Jindabyne is home to experienced, passionate mountaineers and adventurers who are skilled and experienced in the outback, and have been crossing boundaries in the backcountry of the Australian Alps for decades. 
Remember, if you can walk, you can snowshoe! Build your own family snowshoe adventure with the kids, find your balance on a beginner guided tour, or push yourself beyond the boundaries on a full day snowshoe experience to the peaks of the Australian Alps and the "Roof of Australia" in Kosciuszko National Park. Start your snowshoe adventure today with an experienced guide from one of Jindabyne's top outdoor adventure companies.
Wilderness Sports
Location: Nuggets Crossing in Jindabyne and Perisher Ski Resort
Contact: +61 2 6456 2966
Snowy Mountain Back Country (SMBC)
Location: Perisher Ski Resort
Contact: +61 4 0034 9319
K7 Adventures
Location: Kosciuszko Express Chairlift at Thredbo
Contact: +61 402 298 821
Experience the very best of Australia's premier alpine region when you stay with Alpine Country Holidays in Jindabyne, NSW. We have the best places to stay in the Snowies, we know the best places to play, and you can book your holiday with confidence with a local family business that has been welcoming visitors to the Snowy Mountains for over 12 years. We hope to see you on the Jindabyne snowshoe tracks soon!